Dollfie Dream photo series: Kyouko -1-
June 20, 2016
Was having trouble coming up with interesting and meaningful titles for my Dollfie Dream photo centric blog posts, so decided to simplify things by using generic titles with a split between posts featuring only one or two shots from an impromptu photo opportunity, and posts like this one that showcase more photos from a larger series.
Took these photos of Kyouko during the weekend, using free time on Saturday afternoon to indulge in some Dollfie Dream photography, a hobby am still fond of and hope to enjoy for time to come.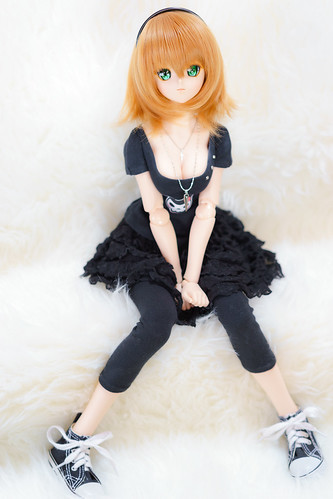 Kyouko is clad in a mix 'n' match outfit including an off-shoulder shirt made by Murasaki.me, pants from CoolCat, while the skirt, shoes and accessories were purchased from Dollmore. The background is a simple imitation sheepskin rug from Ikea.
Lighting for these photos was indirect natural light from a top skylight and from a window in front of Kyouko, also used a silver reflector dish placed to the side or angled low to bounce some light from above back onto the subject.


Took advantage of Kyouko's DDS body being equipped with Peach Pai M Plus to use such an off-shoulder top and necklace accessories to emphasise the bust line for a more alluring look.
While it can be challenging to keep black fabrics clear of pesky dust particles or stray hairs from the synthetic doll wigs, it's even tougher to keep some types of dark cloth looking good on dolls equipped with Peach Pai as the talcum powder required to coat this custom silicone part with can quickly adhere to fabric.
You can see more photos from this series on my Flickr photostream.